Galveston Island Attractions
Enjoy the wonders of Galveston Island during your stay at The San Luis Resort by exploring the beauty and historic elegance of Galveston Island. Boasting 32 miles of sun-drenched beaches, the Historic Strand District, exciting entertainment and great shopping, Galveston offers a wide array of attractions on land and sea.
Whether your pleasure is sunbathing, sailing, surfing or kayaking, you'll spend an amazing day at the beach, easily accessible just steps away from the hotel and resort.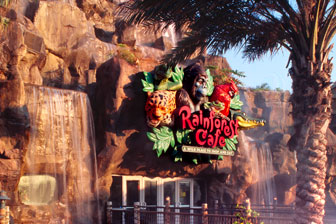 Part adventure, part restaurant, and wholly entertaining. Only Rainforest Cafe location with a RIDE! Expeditioners will be taken on a journey through the Rainforest along the water. Animals come alive as you move through the river. Make sure to visit our Build-A-Bear Workshop® where you can create your own furry friend!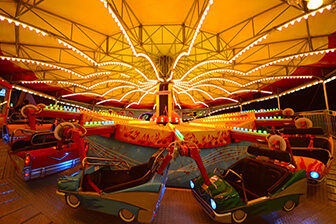 25th & Seawall l 409-766-4950
Featuring waterfront fun and entertainment like no other Gulf Coast destination, the Galveston Island Historic Pleasure Pier features family-oriented attractions including rides, midway games, a wide selection of food venues and retail shops. Discounts and packages are available.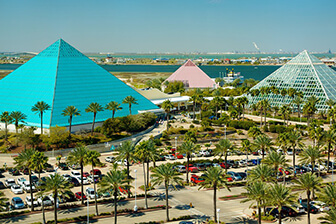 One Hope Boulevard | 409-744-4673
Sitting on 242 lush acres, Moody Gardens features a 10-story glass Rainforest Pyramid, IMAX 3-D Theatre, Discovery Pyramid (designed in conjunction with NASA), Ridefilm Theatre, the breathtaking Aquarium Pyramid, Palm Beach and the Colonel Paddlewheel Boat featuring dinner cruises.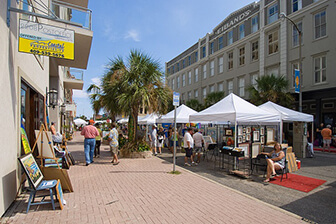 POSTOFFICE STREET ARTS ENTERTAINMENT DISTRICT
21st & Postoffice Street
This area includes Gallery Row with over 20 galleries of sculpture, photography and fine arts. The street is a must for shopping, unrivaled for the number and quality of antique and collectible stores as well as boutiques, gift stores, restaurants and nightlife.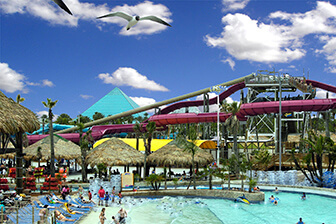 2026 Lockheed Drive | 409-740-3003
The new Surfenburg area offers 16 water attractions, including uphill water coasters, a wave lagoon, three beaches, body slides, the Tiki Tikes kids' area and Boogie Bahn surf ride. Wasserfest, the world's first convertible waterpark area, offers more than a dozen heated water attractions for year-round enjoyment.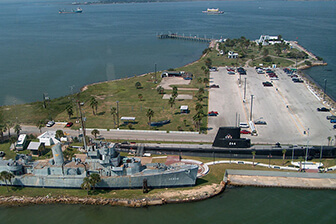 Pelican Island via Seawolf Parkway (51st Street)
A relaxing tropical oasis situated at the entrance to Galveston Harbor. On display and open for tours are the WWII submarine CAVALLA, destroyer escort U.S.S. STEWART and other military hardware. Playgrounds, concessions and a fishing pier round out the pleasures of Seawolf Park.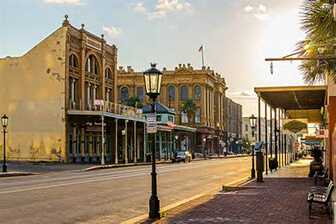 THE STRAND HISTORIC DISTRICT
Between 20th & 25th Streets on The Strand
The Strand was the heart of Galveston in the late 1800s and early 1900s. Fine architects designed both the mansions along Broadway and the buildings in The Strand area in styles inspired by the golden ages of the Greeks and the Victorians. The Strand is also the center of Mardi Gras celebrations, Dickens on the Strand festivities and as well as antiques, shopping and art galleries.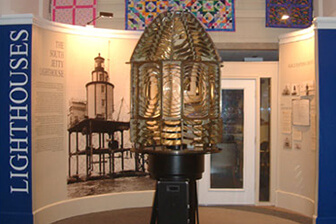 GALVESTON COUNTY HISTORICAL MUSEUM
25th Street and Strand (Shearn-Moody Plaza) | 409-766-2340
This museum is located in the 1919 City National Bank Building and includes exhibits on the 1900 Storm, Native Americans during the time that Cabeza de Vaca occupied the Island in 1528, and the Galveston architecture of Nicholas Clayton. Unique features include a lighthouse lens and actual footage from the 1900 Storm taken by Thomas Edison's assistant.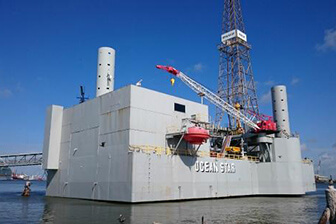 THE OCEAN STAR
20th Street & Harborside Dr. (at Pier 19) | 409-766-7827
Visitors can step on board and tour the completely refurbished jackup. Three decks feature exhibits on offshore drilling and production, marine transportation, environmental protections, construction and pipelining. Sponsored by the Offshore Energy Center.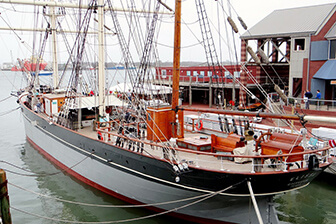 TEXAS SEAPORT MUSEUM AND 1877 TALL SHIP "ELISSA"
21st & Harborside Dr. (Pier 21) | 409-763-1877
Explore the decks of this National Historic Landmark and imagine the days when daring sailors challenged the world's oceans. In the adjacent museum and theater, witness the story of Elissa's dramatic rescue from the scrap yard and her meticulous restoration by the Galveston Historical Foundation.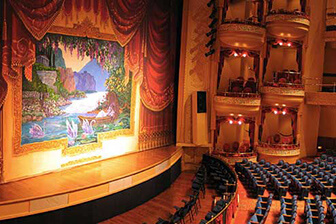 2020 Postoffice Street | 409-765-1894
A year-round performing arts theatre. The theatre has been magnificently restored and is ranked among the nation's finest historical restorations.
The Opera House is designated as the official Opera House of the State of Texas by the 73rd Legislature. The theatre is also open for self-guided tours daily.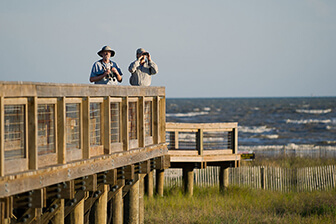 BIRDING
Galveston Island is one of the most popular places in the U.S. for birding. Experts and beginners alike enjoy spotting water and shore birds like the Reddish Egret, Galveston's official city bird. Rare species of birds may be seen in the fall and spring months during the migration periods.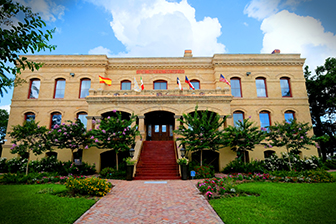 BRYAN MUSEUM
1315 21st Street | 409-632-7685
The Bryan Museum houses the largest collection of its type in the world. 70,000 items, spanning 2,500 years, including treasures from ancient Native American cultural artifacts to 21st century pieces, rare German, French, Spanish and English documents, exquisite saddles, spurs, antique firearms, exceptionally rare maps and books, fine art, religious and folk art, portraits, and documents.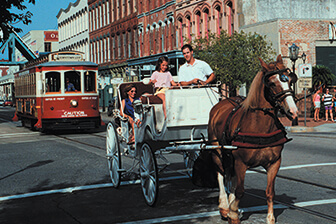 CARRIAGE RIDES
Island Carriages 409-765-6951
Along The Strand you'll see horse-drawn carriages clip-clopping by. Why not step into yesteryear and treat yourself to a ride? Rides are $25.00. They also do weddings and special events.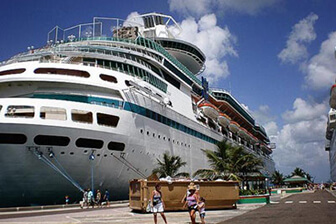 CRUISES
Embark on a cruise to Mexico or the Western Caribbean from the Port of Galveston. A variety of cruise lengths and destinations are available aboard Carnival Cruise Lines and Royal Caribbean International.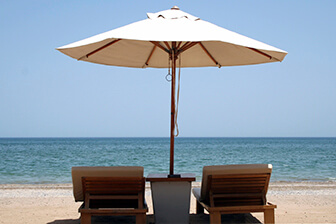 GALVESTON BEACHES
Galveston Island boasts 32 miles of Gulf Coast beaches. All the beaches are accessible at numerous points and open to the public. There are facilities and concessions at the main public beaches as well as the state and county parks. The water can be chilly in the winter months (about 60°F), but from May through September a very nice, soothing, easy swimming temperature around 80°F.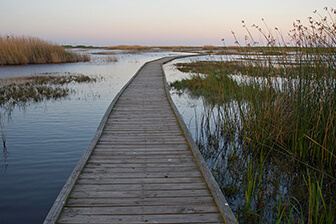 GALVESTON BEACH PARKS
Public beach parks on Galveston Island include: Stewart Beach Park & Recreation Area (6th St. & Seawall, 409-765-5023); Dellanera RV Park (FM 3005 at 7 Mile Road); East Beach/R.A. Apffel Park (Seawall & Boddeker Dr.); Galveston County Pocket Parks FM 3005 at 7 Mile Rd., FM 3005 at 9 Mile Rd., FM 3005 at 11 Mile Rd.; and Galveston Island State Park, FM 3005.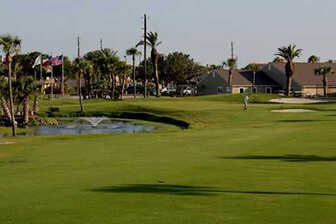 GALVESTON COUNTRY CLUB
14228 Stewart Road | 409-737-9800
Founded in 1898, the Galveston Country Club is the oldest private country club in Texas and represents a life of elegant ease in this beautiful, seaside resort on the Island's West end. Members and guests enjoy a full schedule of tournaments throughout the year and a resident PGA golf professional is always on hand for individual or group lessons.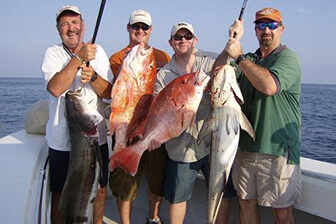 GALVESTON FISHING
Galveston Island is every angler's dream offering beachfront, pier, surf, inshore, offshore and bluewater fishing. For fishing inside Texas waters, you must have a TEXAS fishing license for all fishermen 17-65, plus a three-day salt water sport fishing license (if applicable). You can purchase a license at the Galveston County Courthouse, 733 Moody Street, as well as sporting goods stores, convenience stores, tackle shops and bait camps.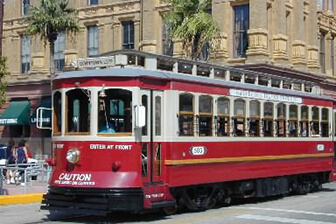 GALVESTON ISLAND TROLLEY
Starting at 2100 Seawall & 2016 Strand | 409-797-3900
The trolley can be a wonderful way to take a load off tired feet. Trolleys start at 2100 Seawall Blvd. and 2016 Strand. They run Monday-Friday 6:15am-8:00pm, and Saturday-Sunday 8:45am-6:00pm. The Seawall trolley costs 60 cents, and the downtown trolley is free.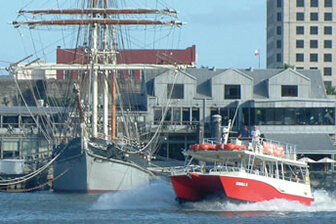 HARBOR TOURS
Pier 22 at the Texas Seaport Museum | 409-765-8687
Explore the historic Port of Galveston and beautiful Galveston Bay up close and personal on a tour of the harbor with a knowledgeable guide who discusses the variety of birds and marine life. You may even catch sight of some dolphins on your excursion.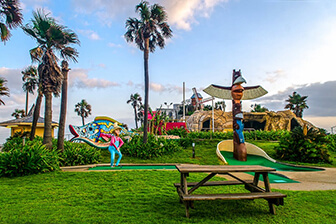 MAGIC CARPET GOLF
9030 Seawall at 91st St. | 409-740-2000
An 18-hole course open weekdays 10am-8pm and weekends 9am-12pm. Adults $6, children 12 and under $5. Children under 4 are free with an adult.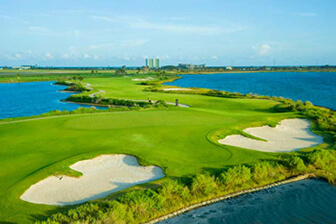 MOODY GARDENS GOLF COURSE
1700 Sydnor Ln. | 409-683-GOLF (4653)
Renowned golf course architects Jacobsen Hardy Golf Course Design created a design that keeps the best historical features of the layout while significantly improving certain holes and overall course flow.
Hours:
Monday-Friday 8am-5:30pm
Saturday-Sunday 7am-5:30pm